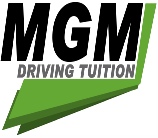 Learn how to Drive before your 17th Birthday
MGM Driving School offer driving courses for pupils under the age of 17 on a private secure off road traffic free course at Dunsfold Park, the home of BBC Top Gear.
The courses are suitable for anybody from the age of 14 and no Driving license is required.
MGM driving school will teach the official Driving Standard Syllabus, learning to drive by one of our fully qualified DSA Instructors.
Tuition will take place in a clean and well-maintained vehicle, fitted with dual controls and air conditioning from one of our courteous well presented driving instructors .
We will help you gain the experience and build your confidence so that you are ready for any on road training.
Our under 17 driving courses are suitable for individuals or groups of three, making it an ideal Birthday present.
Nervous pupils may also benefit by taking the opportunity to learn in a traffic free environment.
MGM Driving School offer under 17 driving courses with the benefit of additional lessons were we will cover as much of the DSA syllabus as we can in an off road environment. Please click the links below for more information on the under 17 driving courses we offer.






MGM Driving School are also able to structure pupils a complete course of lessons combining off road and on road training.
We can help you prepare for the Theory Test and Hazard Perception Test followed by your Practical Test.
Pupils can also keep the same driving instructor throughout the off road and on road training.
As with all MGM Driving School services you will benefit from a tailored course from a fully qualified Approved Driving Standard Agency Instructor, offering a personalised high level of service that you will not find with other driving schools.