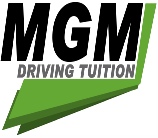 Driving Courses Guildford
Guildford has many different types of roads suitable for your driving course.


Should you require under 17 off road driving courses or advanced driving courses, MGM Driving School provide driving courses that offer flexibility which can be tailored for pupil's individual needs.
MGM Driving School have extensive knowledge of Guildford and the surrounding area providing Driving Courses for pupils at the University of Surrey, Guildford College, Merrist Wood College, Guildford College of Law, Guildford High School, Royal Grammar School Guildford, St Peters Guildford, George Abbot Guildford and generally through out the local area.
Driving courses in Guildford will take place in a clean and well-maintained vehicle from one of our courteous well presented driving instructors who are punctual, forward thinking and therefore able to structure the driving course for each individual pupil depending on their progress.
We believe that every pupil we teach should become the safest and most responsible driver they can be.
Offering post-test training ensuring safe driving for life.
As with all MGM Driving School services you will benefit from a tailored driving course from a fully qualified Approved Driving Standard Agency Instructor, offering a personalised high level of service that you will not find with other driving schools.

Guildford Driving Courses, MGM Driving School, Guildford, Surrey.