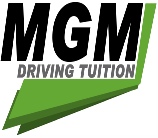 Learning To Drive


Case Studies From MGM Driving School Guildford


MGM Driving School pupils share their experiences as they learn to drive in Surrey.


All these accounts feature MGM customers however we have used model photos and changed the names of the students.
Learning to drive can be challenging to begin with and it takes dedication and commitment.


Research from the Driving Standards Agency shows that on average it takes 45 hours of professional tuition combined with 22 hours of private practice to pass your practical driving test.
This is the average some people can pass with a lot less others take longer.
" Now I have the confidence to go for it "
I was very nervous about learning to drive due to having a bad experience when I was younger and so put it off for perhaps longer than I should have.


Then a friend recommended MGM Driving School and I decided to give it a try.


My Instructor was calm and reassuring and helped me to feel at ease with the car, never loosing their temper and was very patient, never rushing me until I was ready for the next task in hand.
I have two lessons per week I find that way I can remember a lot more and so learn faster. Each lesson is 2 hours duration.
My confidence is really growing and each week I always look forward to my lessons.
" I look forward to my next Driving Lesson "
I was very eager to learn to drive before I started my new college course and a couple of months before my seventeenth birthday I took MGM under 17 Driving Course.
It was great! I got to learn all the basics and felt really confident and ready for the road.


As soon as I was 17 I started my on road lessons with the same instructor - it went really well.
My instructor helped my dad to structure further private practice and with regular lesson I soon reached test standard.
I passed my test first time with one driving fault.


I would like to thank my instructor for all his hard work, MGM Driving school was extremely helpful and I would highly recommend them to all my friends.
" I passed my Driving Test 38 years ago "
"Now I want to help my son"
My son has been taking lessons with MGM and now feels confident enough to continue further private practice with me.


I was a little apprehensive at first, I did not want to transfer any of my bad habits and wasn't sure if I was up to speed with all the latest driving methods.


His Instructor advised taking some of the MGM parental lessons which I took him up on.


I had a really fun time and soon become familiar with the latest safe driving methods and updated my knowledge.


My son has lessons once a week then we practice in between keeping a record in his progress report book.


The lessons have been really worthwhile and I now fell confident enough to supervise him.
" I learnt it's never too late to learn to drive "
At the age of 31 I thought I had left it too late to learn to drive but my wife was expecting our first baby and it would make such a difference.


I did have lessons when I was 17 but it did not go very well and it put me off trying for many years.
As I worked during the week my lessons needed to be at weekends.


MGM were able to provide them and were very flexible about times and I was always able to rearrange them if I needed.
I had some previous knowledge so opted for an assessment lesson to begin, my instructor was very thorough and he soon assessed the areas I needed improvement and devised a complete course of lessons.
I passed my test first time, I cant thank my instructor and MGM enough its really changed mine and my families life.